At Forrester Community Church, we value Children's Ministry as a top priority. We offer Impact Sunday School for all ages at 9:15 a.m. We also offer Children's Church for Pre-K - 1st Grade during the 10:30 a.m. Worship Service. We believe that parents are the biggest influence in a child's life, and we want to do our part to help parents best communicate the gospel with thier children. That's why we offer The Gospel Project Curriculum.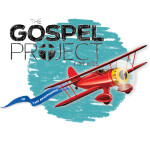 The Gospel Project for Kids is a Christ-centered Bible study resource that follows a chronological timeline of Bible events—presenting the story of redemption through Jesus like kids have never seen it before! Each week, these stories come to life through video, music, activities, and more.
Children's Check-In
Sunday morning Children's Check-In will open at 9:05 a.m. for Impact and at 10:15 a.m. for the Worship Service. If your child is attending Impact (Pre-K - 5th Grade), you will sign them in at the Hallway Check-In Station.
2nd-5th graders should be checked out after Impact so that they can attend the Worship Service with their parents. Pre-K-1st graders may stay in the children's area after Impact if they are planning to attend Children's Church.
Nursery children, ages 0-3, are checked in and out at the front lobby Check-In Station. Check-in will open at 9:05 a.m. for Impact and at 10:15 for the Worship Service.
Upon checking in your child, you will receive an i.d. bracelet, and your child will have a name badge with the matching number. To retrieve your child, please return to the same check-in location and present your i.d. bracelet. A volunteer will verify that the numbers match, and you will initial that you are leaving with your child.
Wednesday Night Children's Ministry
Forrester Community Church offers Wednesday Night Bible Study for Kids at 6:30 p.m. Children sing worship songs, participate in discussion groups, play games, and fellowship with other children during our Wednesday night study time. The nursery is available for children, ages 0-3.


Youth Ministry
Students, grades 6th - 12th, are invited to attend Impact Sunday School at 9:15 a.m. on Sundays. The Youth Group also meets on Wednesday nights at 6:30 p.m. To best communicate the gospel of Christ, we have chosen The Gospel Project curriculum for our students. Each Wednesday, they participate in group games or activities. They hear a Large Group message, followed by a time of Small Group discussion. Students are also invited to participate in various mission projects, trips, and events throughout the year.
For more information about Children's Ministries, contact Melanie Tomlinson at .
For more information about Youth Ministries at Forrester Community Church, please contact Patrick Minarovich at