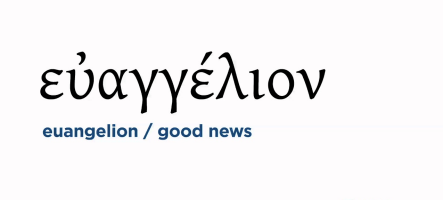 We have looked at the importance of the question. We have pointed out a few gospel substitutes. Now let's answer the question.
What is the Gospel?
The gospel is news. I know I have already said this, but it needs to be included in the answer. Words must be used to proclaim the Gospel. The Gospel is news about what God has done in Jesus Christ. To think that you can "live the gospel" is to put yourself in the place of Christ. So when anyone attempts to live the Gospel, they are actually blaspheming God. What they essentially are saying is "You don't need the good news about Jesus, just watch me." Plus, faith is the means of grace God uses to call people unto Himself by HEARING those words proclaimed. It's not only disobedient to not use words to proclaim the Gospel, because God has ordained the preaching of it to draw men unto Himself in season, it's also a gross underestimation of God's power to do what He claims He will and does do in that proclamation.
So the Gospel is news. But what is at the center of the news? Sadly, many people believe in and proclaim a Gospel that is man-centered (anthropocentric). A man-centered gospel is about what I have done. It is about me. It is about how special I am. It is about how much God needs and wants me. That is not the Gospel.
The Gospel is about what God has done. The Gospel is news about God and from God. The Gospel is not about me. It is God-centered (theocentric). The Gospel is about how sovereign God is. The Gospel is about how much I need God. My role is that I'm the problem in the Gospel.
It does not end there. We have already stated that the Gospel is news about what God has done in Jesus Christ. Martin Luther says, "Gospel is and should be nothing else than a discourse or story about Christ."
"For Jews demand signs and Greeks seek wisdom, but we preach Christ crucified, a stumbling block to Jews and folly to Gentiles, but to those who are called, both Jews and Greeks, Christ the power of God and the wisdom of God."
1 Corinthians 1:22-24
"And I, when I came to you, brothers, did not come proclaiming to you the testimony of God with lofty speech or wisdom. For I decided to know nothing among you except Jesus Christ and him crucified."
1 Corinthians 1:1-2
The cross is at the center of the Gospel. God is a holy God, and His wrath is set upon every human being because of their sin. And this is just. But God sent His son to be a substitute for those whom the Father had given to the Son before the world began. And on the cross Jesus had the wrath of God poured out on Him. The cross shows us how holy God is. It should also remind us of our sinfulness and that He requires payment. Propitiation is necessary. Because of His holiness, His wrath must be satisfied. His righteousness must be satisfied. His justice must be satisfied. Only Jesus is worthy to accomplish this.
Not only can we try and make the Gospel man-centered, but we can also attempt to make the cross man-centered as well. You might remember this song, "Crucified, laid behind a stone, He lived and died rejected alone. Like a rose trampled on the ground, You took the fall and thought of ME above all."
The purpose of the cross is not to show people their worth. Jesus' death was for God's vindication and the declaration of His glory. God was demonstrating His justice and righteousness.
In John 12:27-28 after His triumphal entry into Jerusalem and in preparation for His crucifixion, Jesus says explicitly that God's glory was at the heart of the purpose for His coming.
"Now is my soul troubled. And what shall I say? 'Father, save me from this hour'? But for this purpose I have come to this hour. Father, glorify your name." Then a voice came from heaven: "I have glorified it, and I will glorify it again."
First and foremost, it was the Father that was on the Savior's mind when He was on the cross. The cross vindicates God's character before it rescues us.
"For our sake he made him to be sin who knew no sin, so that in him we might become the righteousness of God."
2 Corinthians 5:21
God vindicates His righteousness and allows Himself to have mercy on sinners. Sinners that deserve to be on the cross before spending eternity separated from God. The Gospel is that instead of you dying for your sins, the sinless Son of God did.
It get's even better.
"But God, being rich in mercy, because of the great love with which He loved us, even when we were dead in our trespasses, made us alive together with Christ—by grace you have been saved—and raised us up with Him and seated us with Him in the heavenly places in Christ Jesus, so that in the coming ages He might show the immeasurable riches of His grace in kindness toward us in Christ Jesus. For by grace you have been saved through faith. And this is not your own doing; it is the gift of God, not a result of works, so that no one may boast."
Ephesians 2:4-9
How amazing is that? This is a gift of grace. A gift that is of and from God. We can't earn it, which is good news because if it were up to us we would never obtain it or be able to keep it. Thankfully the grace that saves you is the same grace that keeps you.
I love this quote from John Hendricks:
"In short, the gospel is the life-altering news that Jesus Christ the eternal Son of God became man, lived a sinless life under the law, died for sinners and rose again to reconcile them to Himself eternally victorious over every enemy that stood between God and man. Now because of His redemptive work, there is nothing that separates those who believe from their Creator and all the benefits that He promises in Him."
The Gospel is not struggling and toiling to try and attain righteousness and a right standing before God. It is the good news of what God has done in Christ through the cross by grace to give eternal hope to those who have faith in Him.
The good news gets even better. As believers, we know the answer to the question, "What is the gospel?". And now we spend eternity marveling over the depths of the riches of God in Christ.